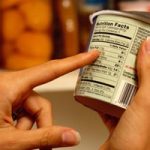 There are new FDA Label Changes for Liquid Vitamins and Supplements.  Adapting to the new healthier climate in America, the FDA is planning to change how companies present their nutritional facts and labels.  "The food environment has changed and our dietary guidance has changed," says Michael Taylor, FDA deputy commissioner, "It's important to keep this updated so what is iconic doesn't become a relic."  A relic is correct. The FDA has not changed it's labeling in the last 20 years, and it has been working almost a decade to implement the new changes its planning.  As I skim down the nutritional information of my drink, it is a jumble of numbers and hard to read words.
One of the main complaints from health experts is the ambiguity of serving sizes and the amount of serving per container. Often times businesses will include more than one serving per serving making the calorie and other nutrient information deceptive.
Taylor also comments that calories will be more prominently labeled. This might be in reaction to America's obesity rating. As of a study conducted last year by United Nations food and agriculture organization, 31.8% of all americans are diagnosed with obesity. The FDA will also take a closer look on added sugars and proper labeling. Manufacturers are adding non-naturally occurring sugars and syrups, and these ingredients are not taken into account in the total sugars of the product. Also, mislabeling from manufacturers are occurring as they add natural sugars and label their product "Natural", when no other natural ingredient is contained within that product.

Finalizing this transition is going to be long and lengthy process. It may take another few years for all the changes to be made, and have every single manufacturer comply with these new regulations. Well, whatever the FDA decides to change, America will be watching. A study performed by the Agriculture Department suggests that over half of all Americans, 57% look at nutritional labels. This is 15% increased compared to 42% in 2010.  It should be noted that the dietary supplement industry will remain unaffected by the changes in FDA regulation. The FDA will be focusing on the food and beverage, due to the high volume and gross mislabeling of products.
Here are some other changes submitted to the FDA from health experts.
— Add the percentage of whole wheat to the label. Some manufacturers will label a product "Whole Wheat" when only a small percentage of whole wheat is actually contained.
— Understandable Measurements. Concerns have been raised due to the fact that Americans don't understand the metric system. Grams are not easily recognized and palpable, so health expert suggest using teaspoons or tablespoon.
—Front labeling. Nutrition experts are pushing for labels in the front so certain ingredients are more easily noticeable.
Sources:
http://www.cdc.gov/obesity/data/adult.html
http://www.dailymail.co.uk/news/article-2545289/FDA-revise-nutrition-facts-label-make-calories-MORE-prominent.html
http://www.usatoday.com/story/money/business/2014/01/23/fda-to-revise-nutrition-facts-label/4799911/